News 2009
27.10.2009 - 31.12.2009
Please read regularly our latest press releases and our press review in the English section as well!
Bitte, lesen sie unsere neuesten Presseerklärungen sowie auch unsere Presseschau regelmäßig im deutschen Bereich!
Read selected news from 2008 here!
Lesen Sie ausgewählte Nachrichten aus 2008 hier!
Please find here explanations of frequently used expressions or abreviations used in our texts in the glossary.
Im Glossar finden Sie Erklärungen für häufig in unseren Texten vorkommende Begriffe und Abkürzungen.
Dans le glossaire vous trouvez les explications des termes ou abréviations souvents utilisées dans nos textes.
31.12.2009
The National :
Peaceful Xmas in Bougainville

ACTING assistant commissioner of police Huitona Tohua has thanked the people of Bougainville for the peaceful Christmas celebrations. Police in Buin, Arawa, Wakunai, Tinputz and Buka said the Christmas celebrations last weekend were quiet. Only two suspicious deaths were reported from Buin and Buka town over the Christmas festive period. He also thanked the people of Bougainville for celebrating Christmas in peace with their families. He added that the same sort of peaceful celebrations should go on into the New Year period. Mr Tohua appealed to drivers not to drink and drive.
29.12.2009
Post-Courier :
Bougainvilleans urged to work with Govt
By LLANE MUNAU
Member for Central Bougainville, Jimmy Miringtoro, has appealed to the people of Bougainville to work together with the National Government in order to build Bougainville and provide better services in a short span of time.
Mr Miringtoro said this while laying out his development plans for his electorate.
He said the maintenance of the Amuapong, Bonamung, Orami, Kompani and Mapearo roads and the Aropa airport revitalisation program in Central Bougainville will soon be on tender.
Mr Miringtoro had already deposited K1 million each for the new Aropa - Basikun and Jaba – Paruparu roads.
He dispatched money into the following areas of development: education and infrastructure – K2 million, health – K1 million, agriculture – K1 million - which will be broken down to; food crops, marine products,cash crops and livestock getting K250,000 each.
The Arawa town electrification and Central Bougainville Corporate Society will also receive K250,000 each.
"We must know that the National Government is here to help the people of Central Bougainville.
So when the government provides help into an area, people must ask themselves, how will we contribute? They must either show sweat equity or they can stand aside and watch the government do their job, which will result in no development in the area because people aren't responsible," he said.
Mr Miringtoro said it is time the people of Central Bougainville put their hands together and support the Government of Papua New Guinea in its development programs.
He said the Somare/Temu Government, had a vision, that by 2050 the quality of life for its people will improve and PNG citizens will have good houses, hospitals, education system and sickness and poverty will lessen.
Health centre gets K500,000 funding
By LLANE MUNAU
Central Bougainville MP, Jimmy Miringtoro delivered a cheque of K500,050 last week (Wednesday), to the Wakunaii Health Centre for the building of a new maternity ward.
For more than a decade, mothers in the Wakunaii District gave birth in a very run down and ill equipped maternity ward.
Their cries fell on deaf ears, until last week, when the cheque was delivered as a Christmas gift from the MP to the mothers and the people of Wakunaii, during a ground breaking ceremony.
According to Mr Miringtoro, the K500,050 was half of K1.1million he got from the National Planning's, Public Health Investment Promotion.
He said the other half will be delivered to the Manetai Health Centre next week for the building of their maternity ward and the refurbishment of the Manetai Health Centre.
Mr Miringtoro said the buildings and equipment of the two health centres did not meet health standards and he wanted to change this and refurbish them into attractive and life saving centres that are up to standard.
"For too long, mothers have been neglected. It was acquitted in the previous government that the wards were renovated, but nothing had been done," he said.
"MP's must come to help their people, especially women. As many women die or fall sick because of inadequate facilities to help them. With this money we will pay for necessary equipments to run the maternity ward and minimise death and sickness," he said.
The construction of the ward will start in March next year when the government finance books are opened.
24.12.2009
Post-Courier :
ABG minister dies
By GORETH KENNETH
WHILE the rest of the country will be celebrating the birth of the Lord Jesus Christ with peace and happiness this Christmas, Bougainvilleans will be mourning the death of a senior parliamentarian in the Autonomous Bougainville Government house of representative, Dr Benedict Pisi.
Dr Pisi, also the Natural Resource Minister (including Mining) peacefully passed away in his home at Sohano Island this week after a long illness.
Dr Pisi returned from the Pacific International Hospital recently after being admitted there and discharged last week. The late minister also lost his mother, brother and sister this year. He is survived by his wife and two children.
Acting President Ezekial Masatt advised a funeral program was still being prepared and the body was at the Buka General Hospital morgue.
"Today is both a happy and a sad day for all of us Bougainvilleans. Happy as we are preparing ourselves to celebrate the birth of our saviour Jesus Christ and indeed sad because of the loss of one of our most beloved sons, the late Benedict Pisi," Mr Masatt said.
"The news of the sudden passing away of Dr Pisi struck the very central nerve of the ABG Government as the deceased was a senior minister in my government. Bougainville has again lost yet another great leader, which the region cannot afford to.
"Only in June of last year, we lost through the death of our first president the late Joseph Kabui. It will take Bougainville many years to produce such quality leaders to lead and guide the people of the region."
During his first term as Minister for Natural Resources, the Minister was instrumental in bringing together all three Panguna landowner groups to come under one body and one executive. The people of Bougainville, in particular the people of Ioro constituency, will greatly miss his services.
"As acting president of the Autonomous Region of Bougainville, I would like to, on behalf of my family, the people of Bougainville pass my condolence to the family and relatives of the late Minister," he said.
The National :
Bougainville loses a leader
THE people of the Autonomous Region of Bougainville are mourning the death of one of their leader who passed away yesterday.
The late minister for natural resources Dr Benedict Pisi passed away at his residence on Sohano Island yesterday afternoon after a long illness.
He was admitted at the Pacific International Hospital in Port Moresby earlier and discharged only last week.
Dr Pisi was appointed minister for natural resources by the Autonomous Bougainville Government president James Tanis, a portfolio he held until his untimely death.
Dr Pisi played a leading role in uniting the Panguna landowners under one association and one executive.
Bougainville's acting president Ezekiel Masat said the region had lost one of its great leaders.
Tragedy struck Dr Pisi's family when he lost his mother, brother and sister early this year.
He is survived by his wife and two children.
Dr Pisi began his primary education at Panguna then progressed to Arawa High School and did his university studies at the University of Papua New Guinea and further studies in Russia.
Government officials and relatives are working out a programme for a memorial service.
Two remote areas to get roads
THE people of two remote areas in Bougainville have been carrying cash crops on their shoulders to markets for a long time.
They returned with building materials of cement bags, timbers and store goods back home crossing rivers and mountains.
These people of Aropa to Basikuna and Fairomana-Paruparu in Central Bougainville will now have two roads built for easy access to markets and back.
Member for Central Bougainville Jim Miringtoro has allocated K2 million from his district service improvement programme (DSIP) to fund the two roads into the two most remote parts of Central Bougainville.
Mr Miringtoro presented the cheque for K2 million to Works secretary Joel Luma for the construction of the roads.
The Member presented the cheque after the signing of a memorandum of understanding.
The release of the money means that Works Department will now use the money as counterpart funding and will negotiate with development partners to carry out construction of the two roads.
The two roads are Aropa-Basikuna to Kongara road and Tairomana-Paruparu to Jaba fuel station road.
Mr Miringtoro thanked the Somare Government for making funds available under DSIP that could now reach the remote people of Central Bougainville.
"These roads will boost the economic activity in these two areas," Mr Miringtoro said.
He said Bougainville was once a top cocoa exporting province and would strive to regain that position again with the opening up of roads throughout the province.
22.12.2009
The National :
More 'powers' for Bougainville govt
By ANTHONY KAYBING
THE joint supervisory board (JSB) has agreed to transfer five symbolic powers and functions to the Autonomous Bougainville Government as part of the drawing down of powers from the National Government.
The agreement followed resolutions passed during the last JSB meeting for this year that was held in Buka last Tuesday.
It had been noted by the JSB that a draft National Executive Council (NEC) submission had been made for the transfer of these powers and it had already been approved by the State Solicitor which is expected to be submitted to the NEC.
Consideration was also given to the proposed transfer of mineral resource and policing powers and functions to the Bougainville government.
Issues in relation to the non-renewable minerals, mining, oil and gas, had been deferred to the next JSB meeting to enable the Bougainville executive council to consider the 15 indicated steps in the agreement process.
With the transfer of policing powers, a working group of relevant National Government and ABG agencies would be engaged to oversee and identify the powers and functions of the police on Bougainville as part of the efforts to achieve a "greater autonomy" in policing arrangements in Bougainville.
The JSB also discussed the preparation for referendum which called for a working group made of senior ABG officials as well as representatives from the National Electoral Commission to examine constitutional, administrative and financial matters that may determine the initial outcome of Bougainville's referendum.
At the official dinner hosted by the ABG to end the meeting, president of the autonomous region, James Tanis, congratulated the ABG and the National Government for reaching a consensus.
"Although we have gone through tough times often reaching a deadlock, I am happy that we now have come to an understanding," Mr Tanis said.
Deputy Prime Minister Sir Dr Puka Temu shared the same sentiments, saying that Bougainville would remain a priority with the National Government.
21.12.2009
Post-Courier :
ABG pass K173m budget
Treasurer Mathias Salas presented the Budget which was passed by the ABG cabinet and the Bougainville Executive Council, later tabled in the region's House of Representatives at Kubu in Buka.
The Budget was made up of the K63 million allocated by the National Government to the ABG in its 2010 National Budget and also included in this money plan as outlined in the summary were:
* Internal Revenue K10,540,000.
* National Governments grants K98,862,500.
* Re-appropriated National Government Program (DSIP) K12,000,000.
* Re-appropriated ABG programs (2009 PIP) K8,610,000.
* Balance of funds carried forward (2008 PIP) K4,820.000.
* Balance of funds carried forward (2008 recurrent) K900,000.
* Donor K37,105,000.
ABG's budget for 2010 was K172,837,800.
Cabinet members were reluctant to pass the 2010 budget during the ABG House final sitting for 2009.
The unwillingness of some members of the house in passing the budget was based on the fear that the National Government may not honor its commitment to giving the ABG the K15 million for its restoration and development program.
The non-allocation of this funding by the National Government has led to the Finance Minister Mathias Salas issuing a press statement expressing ABG's disappointment over the issue. In presenting the region's budget Mr Salas announced that the Deputy Prime Minister and Acting Prime Minister Sir Dr Puka Temu had assured the ABG leadership that this funding would be given to the ABG and would be prioritised in the supplementary budget in March 2010.
Mr Salas described the allocation as a significant boost to the development efforts being implemented in Bougainville.
He said this budget was not the same as the Government's earlier budgets that focused on recovery from the effects of the Bougainville conflict while at the same time implementing a new Government.
Mr Salas said the restoration and development program with direct funding from the National Budget were some of the first steps in implementing ABG's initiatives to rebuild and revitalise the economy and broaden the economic base in Bougainville. Some of these initiatives included the oil palm project in Torokina and the introduction and promotion of coffee as an alternative cash crop for the people of Bougainville. The rural electrification program would also be applied in 2010. It is seen as a high impact project. Mr Salas said the Government's main task is to put the economy of the region on broad footing, which, at present is narrow-based.
The members agreed to pass the budget and urged the executive government and the administration to follow up on the K15 million assurances to make sure it is appropriate in the supplementary budget in March 2010.
The March budget session would also be the last sitting for this government before facing the people in the election.
2010 budget unfair
By FABIAN HAKALITS
A MEMBER in the Autonomous Bougainville Government House of Representative has criticised the Government's 2010 budget as "unfair and discriminatory" against his constituency.
ABG member for Atolls Pais Taihu questioned why his constituency, which is one of the least developed in the region, had not been given the funding it deserved.
He said it was widely known that some of the islands in the Atolls Constituency were disappearing rapidly as a direct result of global warming taking place.
Mr Taihu described the allocation to his constituency as "peanuts".
He asked if this could be rectified in the 2010 supplementary budget in March.
Mr Taihu said that the allocated amount would not be enough to help him visit all parts of his constituency.
He also questioned the allocation to the national and emergency service.
He said the government had allocated only K500,000 to the organisation that dealt with life and death.
Mr Taihu said it was important that such an organisation was adequately funded to carry out its responsibilities.
He said the National Emergency Service still had a huge debt with service providers to the people in past disasters such as rise in sea level and droughts.
Bougainville to look for financial assistance with staging election
The electoral commission in the autonomous Papua New Guinea province of Bougainville is to seek help from aid donors, such as Australia and New Zealand, to assist with its election next year. The second election for the government is set down for next April and May and it's budgeted to cost more than 2.1 million US dollars.
The acting provincial administrator, Raymond Masono, says the government has already released about a third of this to cover the compilation of the rolls and raise awareness about the new limited preference voting system. He says they hope to receive additional assistance from the national Electoral Commission and will be approaching aid donors.
19.12.2009
Diskussionsforen
Ariva hat sich Spitzenstellung erobert!
Nachdem in früheren Jahren wallstreet:online stets die Rangliste der meistfrequentierten Bougainville Copper Threads anführte, hat sich das Bild seit einiger Zeit komplett verändert: Ariva hat nun erfolgreich die Rolle der Nummer 1 unter den Diskussionsforen zu unserer Aktie übernommen. Das ergibt sich aus der Analyse der ESBC-Nutzerdaten. Das ist besonders deshalb zu begrüßen, da dieser Thread weitaus kundenfreundlicher gemanagt wird. Vorbei die Zeiten, in denen sich genervte Diskutanten mit den Beleidigungen anderer Forenteilnehmer auseinandersetzen mussten, die mutmaßlich von willkürlichen w:o Moderatoren wie "Maatmod" und Konsorten protegiert wurden. Vorbei auch die Zeiten, in denen dümmliche wallstreet:online Bedienstete versuchten, das ESBC Präsidium mit der Androhung "rechtlicher Schritte" gefügig zu machen. Wohin es führt, wenn arrogante und selbstverliebte w:o Moderatoren versuchen, den Threadteilnehmern die freie Meinungsäusserung beschneiden und sogar ganze unliebsame Threadpassagen löschen, zeigt der Börsenkurs der Aktie der wallstreet:online AG überdeutlich. Erstaunlich nur, dass die Hamburger Axel-Springer AG, die Hauptaktionär von w:o ist, solch unternehmensschädigendem Treiben der Angestellten in einem Beteiligungsunternehmen keinen Einhalt gebietet.
Deshalb empfehlen die ESBC derzeit ihren Mitgliedern, den Gedankenaustausch vorzugsweise auf Ariva zu verfolgen, da er informationsreicher und interessanter ist als sein wallstreet:online Pendant.
Ganz nebenbei: Die verschlafene wallstreet:online Riege hat bis zum heutigen Tag nicht gemerkt, dass Bougainville Copper ADRs vom Markt verschwunden sind. Ein weiteres Indiz dafür, wie professionell in Berlin gearbeitet wird!
15.12.2009
The National :
Bougainville talks underway
By TAPO TOVILU
THE last joint supervisory board (JSB) meeting for this year is being held in Bougainville.
Deputy Prime Minister Sir Puka Temu is heading the Government delegation for the Dec 12-16 meeting.
President of the Autonomous Region of Bougainville (ABG) James Tanis said yesterday that there were many issues to be discussed at the JSB meeting.
Mr Tanis said his expectations on the outcome of the JSB meeting were to sign and announce the drawdown of powers and functions from the Government to ARB government.
He said he was expecting the five powers and functions to be passed down along with police and mining powers.
"Because this will be the last JSB meeting for this year, it is my personal thought that the JSB committee revises previous JSB resolutions to evaluate how far we have implemented them," he said.
The JSB is a high-powered meeting between Waigani and the ARB government.
Post-Courier :
ABG to query PNG govt
By GORETHY KENNETH
THE Acting Prime Minister Sir Puka Temu will be confronted today about the alleged K15 million cutback in Budgetary support for the Autonomous Bougainville Government.
This will be during the Joint Supervisory Body meeting, which Sir Puka is in Buka to chair with the Autonomous Bougainville Government President James Tanis.
Higher Education Minister Michael Ogio is also in town and will face the music when the meeting starts in the morning.
ABG politicians are angry about the money, which they had counted on, based on assurances given by Waigani.
President Tanis on arrival in Buka yesterday from his London trip advised that the K15 million cut back issue in the 2010 national budget for Bougainville will be high on the agenda when the National Government leaders meet with ABG leaders in Buka today.
Yesterday acting President Ezekiel Massat met President Tanis on arrival, flanked by ABG Leader of Government Business and Trade Minister Joseph Watawi, ABG Speaker Andrew Miriki, Acting Administrator Patrick Koles and several other leaders.
Mr Tanis advised that the ABG Speaker will suspend the Parliament sitting today to allow for JSB to convene with the National Government leaders to get a good response on the K15 million budget cutback for next year.
ABG put in for K78 million with impact projects already lined up for the region.
This year, the National Government in its 2010 Budget announced only K63 million for Bougainville and that created an issue in the ABG Parliament for its leaders.
JSB agendas will include the announcement of the five powers that will be drawn down by the end of this year and other important issues affecting the region.
The Administrator's position, which has gone messy over the past 10 months, will also be discussed and announced to go back to the drawing board.
Mr Tanis, who was welcomed at the airport accompanied by the National Government team, said this is when they will need to get a clear understanding on the Budget issue before the Parliament sits on Thursday.
Planning Minister Paul Tiensten, Treasurer Patrick Pruaitch, Public Service Minister Peter O'Neill and Police Commissioner Gari Baki are expected in Buka this morning.
Post-Courier :
British ready to assist B'ville
THE British Government stands ready to assist Bougainville on global warming and the Carterets issue.
This is from British Parliamentary under-Secretary of State Chris Bryant who said he will put Bougainville's Carterets islands as his personal agenda.
Autonomous Bougainville President James Tanis said this after a week's trip to London last week.
Mr Tanis said he was very happy and satisfied with the trip as he met world leaders like British Prime Minister Gordon Brown and Foreign Secretary David Miliband, visited the British Parliament, met with the leaders of the Commonwealth Parliamentary Association, the PNG High Commissioner to the United Kingdom Jean Kekedo and her team and the leaders of Belfast.
His main agenda was to set up international link and he has done that.
"It is vital these coming elections are internationally monitored," Mr Tanis said. "I have discussed this issue with the British leaders and updated them on the situation on the ground.
"The British Government is committed in assisting, I am satisfied with my visit and look forward to working with Britain."
15.12.2009
New Pictures: Former employees of Bougainville Copper Limited published on Facebook photos they took of their daily life in Panguna. Please click here to find out !
Ehemalige Mitarbeiter der Bougainville Copper Limited haben Fotos auf Facebook über ihr Leben in Panguna veröffentlicht.
Klicken Sie hier um eine Auswahl zu sehen !
03.12.2009
Tanis on Road Show
Tanis auf Werbetour
After having visited Australia on invitation of the Australian Minister of Foreign Affairs last week, Bougainvilles President James Tanis is leaving for London tomorrow. We suppose that his trips have nothing to do with visiting Coffee plantations in Cairns, nor he will go to cold and humid old London for selling Bougainville's cacoa vintage, damaged by the cacoa pod borer, to a groggy Cadbury company or even Christmas shopping. Both trips were handled under absolute discretion. Therefore we strongly believe that the major concern was/is to meet secretly the Rio Tinto management to discuss financing and time schedule for the re-opening the abandonned Panguna mine. The postponed JSB meeting that was said to occur in the first days of December will likely be held in January due to Christmas preparations in PNG. Hopefully the landowners also will have elected their body up to January. Without this "one voice" of the Panguna landowners no sustainable negotiations or decisions are possible. Nevertheless: At no time within the last couple of years the outlook was as positive as today. As there will be common elections held in June 2010 we are also facing some more delay, also due to election campaiging. But the main target, the re-opening of the Panguna mine by BCL, seems already to be confirmed. So, investors should be patient now.
Actually our main news sources, The National and the Post-Courier, face major technical problems and are off-line. The represents an important hindrance for our news stream. At the Australian Stock Exchange (ASX) the number of buyers is increasing on a low lewel. Due to a huge sell-order of more than 400 000 shares at a price of 0.65 AUD the soaring of the share price appears likely to be blocked. But, an increasing demand may bring a extreme soaring share price also if there is no new seller trying to keep the share price down.
The orderbook indicates an increasing number of private investors watching out for an opportunity to buy cheap. ADR emmitting companies who try to buy back BCL shares are (unfortunately) not yet present on the market. That might happen in January.
Nachdem Bougainvilles Präsident James Tanis die vergangene Woche auf Einladung des australischen Außenministers in Australien verbracht hat, fliegt er morgen nach London. Wir gehen davon aus, dass er nicht deshalb in Australien war, um Bananen- und Kaffeeplantagen in Cairns zu besuchen. Eine Reise zu den Ananasplantagen Alaskas wäre sicherlich reizvoller. Zudem wird er jetzt wohl kaum in die feuchte Kälte Londons fliegen, um dort die vom Cacoa Pod Borer beschädigte Kakaobohnenernte Bougainvilles an den maroden Cadbury Konzern zu verhökern oder Weihnachtseinkäufe zu machen. Beide Reisen, über deren Inhalte und Termine so gut wie nichts verlautbart wird, scheinen für uns nur einen Hauptinhalt zu haben: Verdeckte vertrauliche Treffen mit Vertretern unseres Hauptaktionärs Rio Tinto! Das Ziel ist klar: Die Abklärung der Finanzierung und des Zeitplans für eine Wiedereröffnung der Pangunamine. Das für Anfang Dezember geplante JSB Meeting ist demzufolge vorerst verschoben und wird dann wohl frühestens im Januar, nachdem der Feiertagstrubel vorbei ist, stattfinden. Dann dürften auch die Panguna Landowner endlich ihre Vertretung gewählt haben. Denn: Ohne diese können keine verbindlichen Verhandlungen geführt werden. Kurz: Noch nie in den vergangenen Jahren waren die Weichen für unser Investment so gut gestellt. Zwar werden die im Juni stattfindenden Wahlen, speziell der Wahlkampf im Frühjahr, noch für Verzögerungen sorgen: Das Ziel, die Wiedereröffnung zu erreichen, steht offensichtlich fest. So wie es derzeit aussieht, ist nur noch ein wenig Geduld unsererseits gefragt.
Derzeit sind unsere Hauptinformationsquellen, The National und der Post-Courier, wegen technischer Probleme off-line. Deshalb ist der Informationsfluss ein wenig beeinträchtigt. Indes: An der australischen Börse steigt die Zahl der Käufer auf niedrigem Niveau täglich an. Das spricht für eine starke Bodenbildung. Hierbei allerdings wird ein Ausbruch über die 0,65 AUD durch eine massive Verkaufsorder von über 400 Tausend Stück (0,65 AUD) momentan behindert. Allerdings könnte eine große Nachfrage das Bild binnen weniger Tage auch grundlegend verändern und zu haussierenden Kursen führen falls keine weiteren Deckelungsverkäufer auftauchen. Es sieht danach aus, dass sich die dortigen Marktteilnehmer unisono in Lauerstellung befinden. Von Eindeckungskäufen von ADR Emmitenten ist derzeit (leider) noch keine Spur. Dies könnte sich schlagartig im Januar ändern.
Radio New Dawn Bougainville, 03.12.2009:
President Tanis off to the UK for official visit
By Thomas Kathoa
The President of the Autonomous Bougainville Government, Hon James Tanis, will leave for London at the end of this week.
Mr Tanis leaves Bougainville on Friday for Port Moresby in preparation for his departure to England.
He has been invited by the British government, which has sponsored the cost of his trip.
The president has just returned from Australia at the invitation of Australian Foreign Affairs Minister, Stephen Smith.
The England tour is the president's third overseas trip since being elected to office last year.
He has also visited China and Australia.
02.12.2009
Wantok Niuspepa, PNG, November 2009
Read all the Wantok Niuspepa November edition here!
Lesen Sie die ganze Wantok November Ausgabe hier!
Lisez ici l'édition complète de Wantok 11/2009!
Conflict-free mining is thoughtfully targeted
Transitional arrangements are likely to be in place to facilitate the possible return to
mineral exploration and mining on Bougainville, before the drawdown of mining
powers takes place under the Peace Agreement.
The World Bank has committed almost K6 million to achieve what it describes as
strengthening the foundations for a conflict-free mining sector in the Autonomous
region.
The ABG has recently established its own Department of Mining, which has a small
number of staff and limited equipment and facilities.
The World Bank has committed the funds at the request of the ABG to build the
capacity to manage the re-establishment of exploration and mining activities on
Bougainville.
building staff capacity
The principal target of the funding is ABG's future DoM staff, who will be supported
to establish the organizational framework for the department and implement an
effective policy and regulatory environment for mineral exploration and development
in Bougainville, a World Bank document says.
Transitional arrangements will facilitate granting of exploration and mining licenses
for Bougainville until mining powers are transferred to ABG, a Bougainville
Sustainable Mining Policy, operation of a functioning ABG Department of Mining, a
Bougainville Mining Act, a Bougainville Mining Safety Act and enabling regulations,
hiring of professional staff for the ABG Mining Department, twinning of ABG
Mining Department staff into MRA and the PNG Mines Department, or other
appropriate organizations, and the development of small-scale mining support
services and outreach on Bougainville, the Bank says.
respect for the risks
Mine related issues, particularly those at Panguna, are seen as central to the conflict
that grew into the Bougainville Crisis, and the World Bank document pays respect to
the risks as well as the potential benefits of promoting a return to both large-scale and
small-scale artisinal mining.
"The possible re-establishment of mining activities in Bougainville will have critics
and has the potential to re-ignite conflict in some areas if not managed appropriately.
"The Project will include development of a communications and information program
to ensure that all stakeholders are informed of the Project objectives and activities,
particularly in Bougainville," the World Bank document says.
"All extractive industry locations in Papua New Guinea are subject to occasional
conflict, often over benefits sharing.
"The focus on improving local governance and accountability is expected to help
mitigate this risk.
"The Project will support training for local stakeholders in conflict resolution."
The World Bank, with more than K100 million to spend in several areas of support
for mining throughout Papua New Guinea says it is including Bougainville in
response to an invitation from the ABG to strengthen mining management capacity.
mining opportunities identified
The document points out that there are both benefits and risks involved in the reintroduction
of mineral exploration and development in the Autonomous Region.
The opportunities relate to the benefits of mining which typically consist of direct and
indirect large-scale and small-scale mining employment, mining-related financial
transfers, and improved access to employment opportunities and services including in
particular health and education services.
The risks include environmental disturbance, loss of land for subsistence agriculture,
and possible cultural harm.
A gender bias exists whereby the bulk of the benefits accrue to men whereas the bulk
of the risks fall upon women and children.
All of these benefit and risk issues need to be discussed and made known to all
stakeholders, the World Bank says.
"With the Bougainville Peace Accord and the establishment of the Autonomous
Government of Bougainville, Bougainville could again become a prime destination
for mineral exploration," the Bank concludes.
30.11.2009
NEW !
NEU !
Der 2. Weltkrieg in Bougainville.
NOUVEAU !
Bougainville pendant la deuxième guerre mondiale.
27.11.2009
NEW !
Starting next week: Google News Alert will crawl the ESBC Homepage regularly!
NEU !
Ab nächste Woche wird die ESBC Homepage regelmäßig vom Google News Alert erfasst!
NOUVEAU !
À partir de la semaine prochaine: Le site de l'ESBC sera surveillé régulièrement par le service News Alert de chez Google!
26.11.2009
The Cairns Post:
Bougainville pushes ties with Far North
THE Far North is poised to strengthen ties with the autonomous region of Bougainville after talks between its President James Tanis and industry leaders in Cairns.
The former guerilla fighter, who was elected president in December last year, was in the Far North to strengthen ties with the region and yesterday held talks with Advance Cairns, Study Cairns and the Cairns Chamber of Commerce.
He also visited Jaques Coffee and the Ragato banana farm on the Tableland and today he will meet Cairns City Council representatives.
Mr Tanis said Bougainville used to have a flourishing coffee industry and he had wanted to visit a coffee and banana farm because of the potential to re-establish these industries.
"My visit is about establishing relationships," Mr Tanis told The Cairns Post. "I never promised I would bring money when I was elected as president, I said I would build relationships."
Foreign Affairs Minister Stephen Smith invited Mr Tanis to Australia as part of the Federal Government's Special Visits Program.
Advance Cairns chief executive Ross Contarino said the visit was predominantly a relationship-building exercise for a region on the upside of a political recovery following years of instability.
24.11.2009
Exclusive: Reconciliation in Panguna
A genuine in-depth report written by Lawrence Daveona (PDF)
Exklusiv: Versöhnung in Panguna
Ein authentischer Bericht von Lawrence Daveona (PDF)
20.11.2009
Bougainville's First Selfmade Millionaire - PDF here!
Bougainvilles erster Selfmade Millionär - PDF hier
Le premier millionaire de Bougainville - PDF ici
19.11.2009
Radio New Dawn
Facilitating a broad-based economy in B'ville
By Sonia Kenu
The deputy administrator of the Autonomous Bougainville Government Raymond Masono has said one of the big responsibilities of governments is to manage the economy in a way that ensures sustained economic growth.
"When the economy is mismanaged, the population suffers from high interest rates, high cost of goods and services, high unemployment and, in the case of PNG, increased criminal activities," he said.
Governments should not only be concerned about the economy but should actually intervene through policies that reduce the effect of adverse impacts on the living standards of citizens.
A broad-based economy is one where no single industry dominates and every major economic sector is developed and contributing to revenue.
Mr Masono stressed that the ABG can implement strategies to develop agriculture, tourism and mining in order to facilitate broad-based economic development in Bougainville.
This might mean the redevelopment and reopening of the Panguna mine rather than the development of a completely new mining project which could take between 15 and 20 years, time which the ABG does not have.
Mr Masono concluded by emphasising that a broad-based economy will also require the development of an integrated transport network, an effective health system and an inclusive education system.
PNG govt must show commitment says Tanis
By Fidelis Lucio
Autonomous Bougainville Government President James Tanis has expressed disappointment at the last minute postponement of a Joint Supervisory Board meeting scheduled for last weekend.
The Board is a high powered committee made up of senior ministers of the PNG government and the ABG and their technical advisors.
Mr Tanis said the PNG government must begin to show commitment towards preparing the agreed referendum on Bougainville's independence by keeping to its schedules and implementing agreed resolutions on the drawdown of powers.
He added that the last minute cancellation of the meeting showed that the PNG government was unprepared for the meeting which could mean it had not implemented certain decisions that had previously been collectively made.
Mr Tanis understands that both governments were giving budget preparations priority.
"The national budget is important to us in the ABG," Mr. Tanis said.
"However not everyone was involved in the budget preparations and the Board meeting, if it had been held, would have given us a better understanding of whether or not the resolutions were being followed up and implemented as agreed," he said.
Mr Tanis has left Buka to spend a week in Australia at the invitation of Australian Foreign Affairs Minister, Stephen Smith. While there he will discuss matters of mutual interest with Mr Smith, other senior federal ministers and with various Australian state premiers.
Tax revenues are inadequate for self-reliance
By Aloysius Laukai
ABG's tax collector, Peter Siana, says Bougainville will depend on outside assistance for many years as its internal revenue is in sufficient to run government activities.
Speaking to an economic development seminar, Mr Siana said Bougainville desperately needed one big impact project to boost its capacity for fiscal self reliance.
He said current revenue raised through company taxes and GST is not enough.
He also revealed that many Bougainville companies are not paying their tax, including income tax.
Mr Siana said the people of Bougainville needed to be aware of their obligations and support their government.
16.11.2009
JSB Meeting Postponed!
JSB Meeting verschoben!
from Post-Courier:
Meet cancelled " in fear of " no trust vote

By GORETHY KENNETH

FEARS of a possible vote of no confidence in the Government led to the cancellation of a crucial meeting in Buka over the weekend.
Deputy Prime Minister Sir Puka Temu, Higher Education Minister Michael Ogio and other important dignitaries were scheduled to be in Buka on Saturday for the Joint Supervisory Body meeting yesterday.
All preparations were in line, but an hour before the flight landed, word reached the Bougainvillean leaders from Sir Puka Temu that he had cancelled his trip because of the flight delay.
But word from the Government reaching the events committee on the island claimed because of the budget sitting and the looming vote of no confidence talks against the Government, the leaders had to stay back in Port Moresby. The meeting will now be scheduled for next month. Autonomous Bougainville Government president James Tanis, although disappointed because of the last minute postponement, said he accepted it with reluctance as it would be ideal to hold the meeting after the budget session. He said he would be meeting with Sir Puka Temu tonight before leaving for Australia tomorrow to meet with Australia's Foreign Minister Stephen Smith.
The budget is to be handed down tomorrow by the Finance Minister and Treasurer Patrick Pruaitch.
ABG speaker ordered out from rented room
By WINTERFORD TOREAS
SPEAKER of the Bougainville House of Representatives Andrew Miriki was forcefully ordered to vacate his rented accommodation room last Friday due to unpaid rentals totalling K50,000.
According to his executive officer Joel Tukana, Mr Miriki was given his marching orders by the owner of the house after the ABG Parliamentary Services had failed to settle the rental fees, resulting in Mr Miriki's bills accumulating to K52,920.
The owner charges Mr Miriki a fee of K7,560 per month, however according to a letter from the house owner, the Speaker had not been paying his rents since March this year.
Mr Miriki is believed to be in Australia, however his daughter was staying in his room when given the orders to get out of the house.
Mr Tukana was able to move the Speaker's belongings to a house near the Buka airport. However, when the Post-Courier visited the house it was noted that Mr Miriki was only given a small room to temporarily use. "As you can see, this room is very small and is not fit for a leader like Mr Miriki to use. Apart from him, there are also about four other families renting this same building," Mr Tukana said. He said this situation would not have occurred if Mr Miriki was using the Speaker's official house which is on Sohano Island.
"The Speaker's house is still being occupied by the former speaker Nick Peniai. If Mr Miriki had moved to his residential house we would not be facing this problem today.''
16.11.2009
Old Stock Certficates for Collectors here!
14.11.2009
Old Bougainville Copper T-Shirt for Sale !
(click on the picture!)
Altes Bougainville Copper T-Shirt zu verkaufen !
(Klicken Sie auf das Foto!)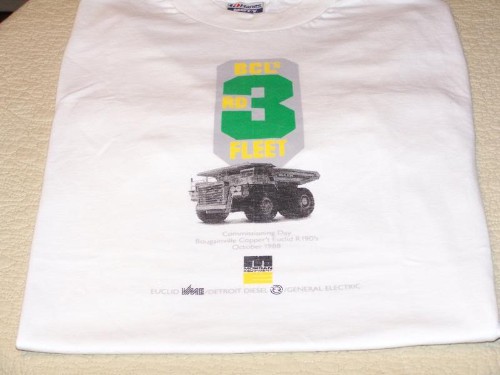 11.11.2009
The new Bougainville Copper Aggreement (BCA) is defenitely on the agenda of the next Joint Supervisory Board (JSB) meeting that will be held later this month! Further details will be communicated here shortly!
Das lang erwartete Bougainville Copper Aggreement (BCA) steht auf der Tagesordnung des nächsten Joint Supervisory Board Meetings (JSB), das noch in diesem Monat stattfinden wird! Weitere Informationen in Kürze hier!
11.11.2009
New US-Ambassador in PNG to visit Bougainville
Neuer US-Botschafter in PNG will Bougainville besuchen
Nouveau ambassadeur des états unis auprès de la Papouasie Nouvelle Guinée veut vister l'île de Bougainville
All other today's headlines as PDF:
from Post-Courier:
Ambassador to visit B'ville
By FABIAN HAKALITS
THE newly appointed United States Ambassador to Papua New Guinea Teddy B Taylor intends to visit Bougainville once he has settled in the country.
Ambassador Taylor relayed the message to the President of the Autonomous Bougainville Government James Tanis during the president's recent visit to Port Moresby, where he also witnessed the presentation of his credentials to the Governor-General of PNG Sir Paulias Matane at the Government House.
President Tanis said the new ambassador was continuing the good work started by his predecessor Leslie Rowe who had taken up a new appointment elsewhere.
Mr Tanis said the ambassador was keen to visit Bougainville to see the progress on the removal of old war relics from Torokina on mainland Bougainville.
The US envoy becomes a roving ambassador for his country and his duties cover other Pacific countries.
Once Mr Taylor presents his credentials to countries like the Solomon Islands and Vanuatu he will then visit Bougainville.
Meanwhile the United States will also assist and take part in the conduct of the ABG's 2010 general elections and they are among other countries who intend to observe the polling.
Mr Tanis said the observer's presence would rule out any complaints of foul play by candidates and political parties.
09.11.2009
All other today's Headlines as PDF.
Bougainville: Preparing for mining / Law and Order / Learning Online
Cliquez ici s.v.p. pour lire tous les articles importants du 09.11.2009 comme PDF.
from: Post-Courier:
ABG starts capacity building training
THE Autonomous Bougainville Government's Department of Mining officially started its capacity building training program for its technical staff last week with the attachment of two staff with the Department of Mineral Policy & Geohazards Management (DMPGM) and the Mineral Resources Authority (MRA).
The training is in line with the ABG's desire to build its capacity to be able to draw down on mining powers and functions which would enable the Autonomous Government to manage the mining sector on Bougainville.
Department of Mineral Policy & Geohazards Management Secretary Nellie James received and welcomed the ABG staff on Monday this week. "I am pleased to finally implement the National Government's commitment to the ABG and particularly to its Department of Mining and welcome on board their two technical staff who will be attached with us and the Mineral Resources Authority for the next three months. Between the MRA and us, we are committed to providing the best possible training for them including placing them with the various operating mines in the country," she said. The two staff are Leslie Siowi, a graduate environmental scientist and Simon Jaintong, a communications and project liaison officer. Chief executive officer of the ABG Department of Mining Steven Burain expressed his appreciation and looked forward to the successful outcome of the training program. "This is the start of what will be a milestone achievement for us and I look forward to the successful outcome of this training program. The DMPGM and the MRA have been very supportive and played a pivotal role in the implementation of the recommendations of the Joint Supervisory Body (JSB) on the drawdown of mining powers and functions", he said. Mr Burain said that the training attachments will see both his staff spending equal amounts of time over the next three months between DMPGM and MRA concentrating on mineral policy and mining regulation.
03.11.2009
from: Post-Courier
Panguna to benefit ABG and national Govt

THE once lucrative Panguna copper and gold mine will become another major contributor to the economy of the Bougainville and Papua New Guinea as a whole.
Any progress made on the ground so far is being closely watched by the owners, Bougainville Copper Limited as well as the National Government which still owns 19 per cent of the mine.
Deputy Prime Minister and Minister for Mining, Lands and Physical Planning Sir Puka Temu said during the 2009 mining seminar that recent developments under the joint supervisory body (JSB) in relation to the peace process on Bougainville and the commencement of the process towards discussions relating to the Panguna mine "are huge milestones" that give credit to the National Government and the Autonomous Bougainville Government for their willingness to establish lasting peace on the island.
In another plus towards progress on peace process on Bougainville, Sir Puka announced this year that the long awaited Bougainville copper agreement (BCA) would soon be reviewed in accordance with the Bougainville Peace Agreement and the National Executive Council's decision of November 2006.
It was reported in a Mineral Resources Authority newsletter Mineral Tok, the Department of Mineral Policy and Geo-hazard Management's priority under its corporate plan was to review the Mining Act 1992 and the Mining Safety Act Chapter 195A and the Mineral Policy.
"With the current favourable political scenario between the Autonomous Bougainville Government and the National Government, the Bougainville Copper Agreement will soon be reviewed in accordance with the Bougainville Peace Agreement and the NEC decision of November 2006," Sir Puka told Mineral Tok.
The newsletter further reported that given the sensitivity of the issue, the National Government would ensure a transparent process was maintained with the engagement of an independent facilitator and that there is landowner participation.
"In doing so we hope to install confidence in our people on Bougainville and to have the decisions emanating from the review to be fair and justifiable to all affected parties," Sir Puka said.
"DMPGM (Department of Mineral Policy and Geo-hazard Management has prioritised the review of the BCA under its strategic plan and will spearhead the BCA review under the JSB process in consultation with the National Co-ordination Office of Bougainville Affairs and all other relevant Government agencies," said the Deputy Prime Minister
03.11.2009
MELBOURNE based BOUGAINVILLEAN searches contact to other Bougainville Copper folks in greater Melbourne area for discussions ! Please contact here: bougainvillean@bougainville-copper.eu
30.10.2009
from Post-Courier :
Landowners still misuse benefits

by ERIC TAPAKAU

MANY landowners continue to spend a majority of their benefits from the extraction of their minerals on immediate consumption rather than investment.
Mineral Resource Authority managing director Kepas Wali said this when speaking at the 2009 Mining Seminar yesterday. His paper was titled "Mining Benefits and Responsible Equitable Distribution".
He said the distribution of benefits was far from equitable geographically or socially and lacked transparency.
Mr Wali said the provincial governments in the mining project affected areas also used a high proportion of mine related benefits for recurrent expenditure.
"Of the funds utilised for development purposes, the majority is allocated to public infrastructure rather than economic activities," Mr Wali said.
"The level of planning and transparency in the use of mine related benefits has been poor and the National Government has not provided planning or management support to the provinces."
He said as the mine closure approa-ces, provinces face the challenge of meeting higher recurrent budget commitments with less revenue.
"None of the mining provinces of LLGs (local level governments) have established trust funds to meet future maintenance requirements," he said.
He said Papua New Guinea produced 63 tonnes of gold, 186 tonnes or copper and 50 tonnes of silver last year.
The revenue from that was K8.3 billion, representing 54 per cent of the country's total export merchandise in that year.
Operating mines to last year include Porgera (Enga Province), Ok Tedi (Western Province), Lihir (New Ireland Province), Tolukuma (Central Province), Sinivit (East New Britain Province), Simberi (New Ireland) and Hidden Valley in the Morobe Province.
Mining provinces of Western, New Ireland and Enga that hosted some biggest mines received up to K300 million in royalties from their mines in the last five years.